Conference Agenda
More information regarding the virtual NNN Conference 2021 agenda will be released at a later date. Workshop submissions will open in late April 2021. The programme for the virtual NNN Conference 2020, which took place on 8th - 10th September 2020, can be found below.

By hosting last year's conference as a virtual event, we were able to reach new audiences and engage organisations across different sectors, which is critical to achieving the targets set in the draft WHO NTD road map.

With the theme, Accelerating to 2030: Building Resilient NTD Programmes in a Changing World, the 2020 NNN Conference was the most forward-thinking yet. This free, three-day event featured 18 exciting workshops and two rapid fire sessions highlighting the BEST Framework's role in accelerating progress on NTDs toward 2030. The plenaries included a high-level panel discussion and exciting NTD Innovation Prizes.
A pdf version of the programme is available for download on the right hand sidebar.

Recordings of the conference are now available and can be found here.
Day 1 - Tuesday 8th September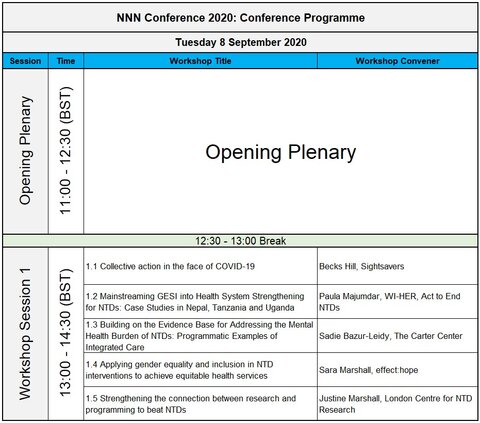 Day 2 - Wednesday 9th September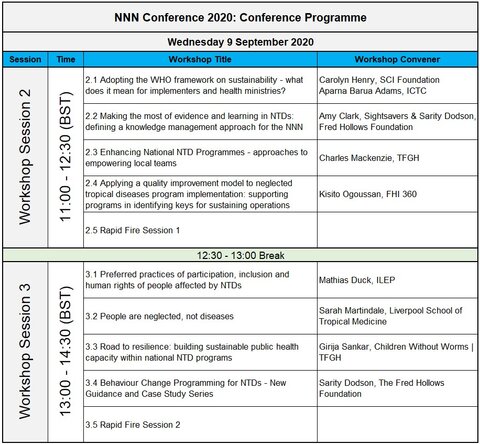 Day 2 - Rapid Fire Sessions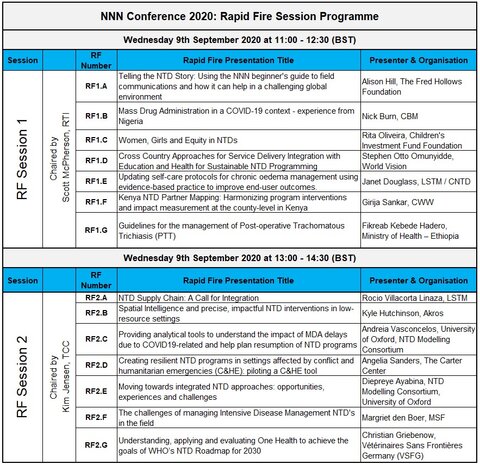 Day 3 - Thursday 10th September