Ensuring Sustainable Systems

This Cross-cutting Group comprises of NNN members with an interest in learning and advocating on promoting sustainability in our work fighting NTDs. The Working Group represent a cross-section of the NGOs in NTDs and therefore the central theme of the group is to deliver practical and tangible outputs which will ensure that all our work has a shared vision of sustainability going forward.
The Working group was created with an initial focus on three main areas, which were derived from the outputs of the group work at the NNN 2017 Conference workshop on sustainability. The workshop participants were from a wide range of stakeholders in the NTD community, reflecting the scope of work that is required in this field. For each area, the Working Group for Sustainable Systems will have a three-year plan, starting with a gap analysis in year one specific to each area.
At the NNN 2018 conference, this gap analysis and proposed action items were discussed to ensure that the Year 2 deliverables of systems, processes, and sharing platforms were valid and context-driven. In 2019, deliverables will build upon these foundations and the diverse input from varied stakeholders in the NNN community.
The key functions are:
To drive the development and implementation of the Network's strategy on this cross-cutting topic.
To align with and contribute to the NNN Framework for Engagement and its objectives
To ensure the Network's support to the WHO NTD Roadmap is aligned with NNN objectives.
To ensure that NNN is represented in relevant forums related to optimising sustainability
To identify, and plan for, an annual programme of activities that deliver, or enable the Network to deliver on, on the NNN strategy for ensuring sustainable systems.
To report back to the Members on the Annual Conference on progress
To ensure that activities and tools for ensuring sustainable systems are available for all members of the NNN.

Objectives: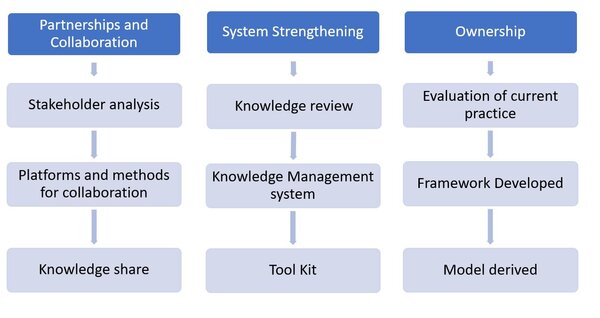 Corresponding with the above focus areas are the following three objectives:
1. Develop a collective working definition of sustainability in the NTD field and develop tools for advocacy and utilization.
2. Review the literature and working knowledge of the key areas within sustainability to ensure alignment of the specific NTD sustainability concepts to the global work.
3. Develop tools for key stakeholders to increase accessibility to the concepts of sustainability and the implementation of sustainable practice within NTD programming.