CBM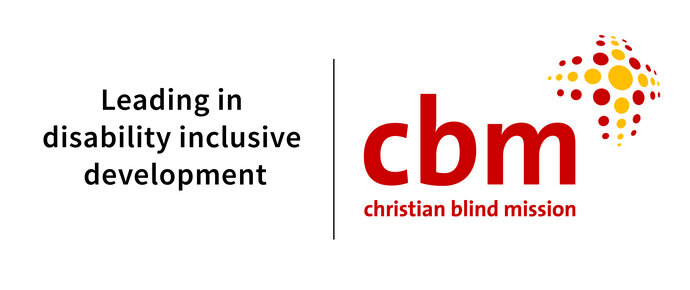 Background:
CBM is an international Christian disability and development organization, transforming the lives of people with disabilities in low-income communities. Through its local partners, CBM works in over 60 countries, providing services to over 80 million people including 70 million people who received drug treatments for the control of NTDs.
CBM works with national governments, UN agencies, non-governmental organisations, disabled people's organisations and communities. As a recognised expert organisation, CBM advises the World Health Organization (WHO) and has consultative status with the Economic and Social Council (ECOSOC) of the United Nations. CBM is a member of the International Disability and Development Consortium (IDDC) and the World Blind Union (WBU). CBM is also a founding member of VISION 2020, a global initiative to eliminate avoidable blindness by the year 2020.
Partnership and capacity building are central to CBM's inclusive development work. To our partners' strong commitment and knowledge of the local context, CBM provides complementary professional and organisational skills and access to financial and material resources. Together, these result in high quality and sustainable programmes.
Neglected Tropical Diseases
Though diverse in terms of causes and effects, NTDs frequently affect the poorest communities resulting in chronic disability, stigma and social exclusion; NTDs also impair children's development and hinder economic growth. Working within a disability inclusive development (DID) approach, CBM aims to provide a continuum of care (CoC). This ranges from prevention and treatment of NTDs to rehabilitation, and ensuring education, livelihoods and social opportunities for people with long term NTD-related disabilities.
CBM has extensive experience in trachoma, onchocerciasis control and in integrated NTD control programmes.
CBM was a founding organization of the African Program for Onchocerciasis Control (APOC) and now continues to support the WHO and national programmes in Africa through the recently formed Expanded Special Project for the Elimination of NTDs (ESPEN). Since 1991 CBM has supported annual treatments with Ivermectin, using 'community directed implementation' (CDI). CBM is mainly active in DRC, Nigeria and Burundi. Activities in the Central African Republic (CAR) and South Sudan are currently on hold due to conflict.
Drug treatment for Lymphatic Filariasis (LF) is included where the diseases are co-endemic. Building on early experience from Kasai Province in DRC, and in response to WHO and National Programme guidelines, CBM has been partnering in integrated NTD control programmes (addressing all five PCT-NTDs) in Burundi, DRC and northern Nigeria.
Eliminating Trachoma and other NTDs is central to achieving the United Nations' Sustainable Development Goals (SDGs). As an active member of the International Coalition for Trachoma Control (ICTC) and the GET 2020 Alliance, CBM supports the WHO recommended SAFE strategy with expertise in trichiasis surgery and antibiotics distribution. CBM's Trachoma work currently focuses on Ethiopia, Uganda, Kenya, Malawi, Nigeria, Chad, the Democratic Republic of Congo (DRC) and Pakistan. In Ethiopia, CBM is also increasingly involved in water and sanitation, working in partnership with other organizations; this approach is gradually being expanded to other programmes.
CBM supports the SAFE strategy in the following ways:
1. Trachoma mapping to identify districts and communities which are endemic
2. Eyelid surgery for all patients with trichiasis. This involves:
Training surgeons and peripheral health and community workers to establish effective trachoma teams.
Improving the quality of eyelid surgery through quality assurance systems.
Promoting early uptake of surgery to prevent blindness and visual impairment.
3. Treating children and adults with active trachoma infection using azithromycin or tetracycline eye ointment.
4. Promoting regular daily face washing of all children.
5. Improving village water supply and sanitation practices.
6. Developing model programmes for the implementation of the comprehensive SAFE strategy that include innovative community approaches.