Blog | Putting the H back in Health – why hygiene matters for NTDs
By Dr Om Prasad Gautam, Senior WASH Manager – Hygiene Behaviour Change, WaterAid and Sarity Dodson, Director of Research, Fred Hollows Foundation and Chair – NNN WASH Working Group
The importance of hygiene for human health has been recognised for centuries, but its crucial role in the prevention, treatment and care for neglected tropical diseases (NTDs) is often under-prioritised by programmes working to control these diseases.
Global Handwashing Day serves as an important reminder for NTD stakeholders to place hygiene at the heart of efforts to build a healthier, dignified and more equitable society. Clean hands, faces and bodies not only improve health, but bring broader social benefits and contribute to the dignity and overall wellbeing of individuals and society.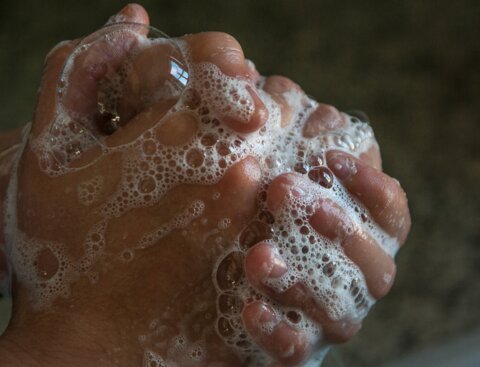 As highlighted extensively by the World Health Organization (WHO) and NNN WASH and NTDs toolkit, hygiene plays multiple roles in NTD control and elimination efforts:
Personal hygiene practices significantly reduce the risk of disease.
Washing hands at critical times with soap and water helps reduce the risk of multiple diseases, including schistosomiasis, soil transmitted helminthiasis and echinococcosis.
Maintaining overall hygiene, including facial and body cleanliness and clean bedding and clothing, helps to prevent a range of infections, including trachoma, yaws and chromoblastomycosis.
Food hygiene further reduces the risk of disease.
Hygienic food preparation, storage, cooking, reheating, eating and feeding practices can prevent infection from soil transmitted helminths, as well as diseases such as chagas, foodborne trematode infections and echinococcosis.
Hygiene plays a fundamental role in NTD treatment and care
Good hygiene through self-care can help manage the severity of, and reduce the risk of secondary infections from skin NTDs like leprosy and lymphatic filariasis through self-care.
Hygienic conditions and practices are crucial to good quality healthcare.
Ensuring a hygienic environment in public places and households can reduce the risk of being exposed to NTDs and ensure a dignified way of life.
The ongoing COVID-19 pandemic has shone a light on the importance of hygiene in keeping entire populations healthy, but it has also highlighted the disparities that exist in accessing even the most basic resources – water and soap.
The same access inequalities cause preventable NTDs to disproportionately affect poor and marginalised groups.
It is clear that hand hygiene is critical at all settings, meaning governments and partners should not wait for another crisis to occur before investing in and promoting hygiene at scale, as this will have multiple benefits across disease control programmes, including those targeting NTDs.
What can and should the NNN do?
Global Handwashing Day is an opportunity to advocate for and deliver stronger intersectoral collaboration on hygiene overall, and for the fight against NTDs specifically.
Last year, the NNN made important commitments to the Hand Hygiene for All initiative, with much progress achieved since then. But more can and should be done to sustain this hard-won momentum.
A key area where the NNN community of practice can play more of a key role, is the development of new and better ways to promote hygiene -- focusing on sustainable change in behaviours, and embedding those in NTD programmes.
In the coming months, the NNN's WASH working group will be finalising a guide on behaviour change programming, including hygiene, for NTD programmes. This is an important step forward in moving from the rhetoric around the importance of hygiene awareness, to actual behaviour change practices.
Alongside improving good practice, NGOs can and should continue to play a key role in advocating for basic hygiene as a service that is accessible to everyone, everywhere – particularly in communities affected by NTDs. The NTD community should also support national governments to take leadership in implementing integrated NTD programmes, where integrated hygiene behaviour change elements come as standard.
Global Handwashing Day 2021 is a unique moment for governments, partners, and the private sector to recognise and prioritise hygiene as part of integrated NTD elimination programmes. If every community can have access to comprehensive NTD control measures, including hygiene behaviour change, we can respond to the current Covid-19 crisis while also building resilience to future NTD threats.
Want to find out more? Listen to the 'Infectious Conversation' podcast with Dr Om.