African Union Summit and African Leaders Malaria Alliance launch new NTD index: Where do we go from here?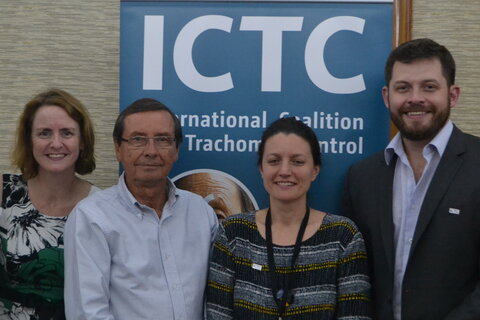 This year's annual African Union Summit was an important and historic milestone for the neglected tropical disease community. For the first time, an NTD index was included in the African Leaders Malaria Alliance (ALMA) scorecard, tracking progress in the coverage of drugs distributed for the five NTDs (trachoma, lymphatic filariasis, onchocerciasis, schistosomiasis, soil-transmitted helminths), amendable to preventive chemotherapy (PC-NTDs).
The African Union (AU), an inter-governmental organization comprising of 55 African heads of government and the African Leaders Malaria Alliance, are important forums in which to engage with African leaders and advocate for global health issues. The ALMA scorecard is reviewed and discussed by heads of states and has historically only focused on malaria and maternal and childhood health issues prioritized by the African Union. Therefore the inclusion of NTDs could be seen as recognition of the severity of NTDs in member states and provides a unique opportunity to increase political will, investment and accountability for these diseases. This in turn, provides an opportunity to accelerate progress towards achieving Sustainable Development Goal 3.3, which calls for an end to the 'epidemics of AIDS, tuberculosis, malaria and neglected tropical diseases and other communicable diseases'.
The initiative spearheaded by the World Health Organization (WHO) and Uniting to Combat NTDs, is underpinned by country profiles that include coverage data, provided to WHO by 47 NTD affected countries in sub-Saharan Africa (members of ALMA and AU), about the five PC-NTDs. These country profiles will serve to promote greater visibility of NTDs alongside country-specific recommendations and track progress on MDA coverage that can be quickly ascertained. Data for the NTD index will be updated annually, signalling a long-term relationship between the African Leaders Malaria Alliance and the NTD community.
This is a new opportunity for the NTD community to carry forward momentum towards the NTD control and elimination agenda. As ILEP CEO and Chair of the NTD NGO Network (NNN) Tanya Woods recently said, "The ALMA scorecard is an important collaboration from a range of partners, old and new, to ensure that tackling NTDs through mass-drug treatments remains firmly on the political agenda for African Heads of State" - We could not agree more.
With 40 per cent of the NTD disease burden currently in Africa, it is clear that the inclusion of MDA coverage in the ALMA scorecard is a step in the right direction. However, eliminating NTDs cannot happen through MDA alone. Without improved health behaviours and access to clean water, hygiene and sanitation, many of the gains made with MDA will not be sustained. This is particularly true for the trachoma community, which has made significant strides in the inclusion of facial cleanliness and environmental improvements as key pillars in its WHO-endorsed SAFE strategy for trachoma elimination. This is alongside the provision of surgery to treat trichiasis and distribution of antibiotics to treat infection.
Moving forward, continued engagement with ALMA enables the broader NTD community to advocate for comprehensive and sustainable strategies to eliminate NTDs. For this to be achieved it is vital we continue to promote the utilisation of available interventions and the value of cross-sectoral collaborations to support positive development and global health outcomes.
The NNN BEST Framework shows the diverse cross-sectoral partnerships and the community's commitment to ensure equity and inclusion in its programs, and can provide evidence to support decision makers in the AU and ALMA in the monitoring and accountability of investing in NTD elimination. The framework was designed to complement existing frameworks such as the WHO NTD Roadmap, the UN Convention on the Rights of Persons with Disabilities and the Sustainable Development Goals, giving the NTD community a strong entry point in which to engage with policy-makers. This approach will allow us to move away from treatment-focused approaches, and demonstrate the value of comprehensive programs to health system strengthening and the achievement of universal health coverage, while providing further incentive for investment.
The inclusion of PC-NTDs to the ALMA scorecard has the opportunity to become a step-changing moment for the elimination of NTDs. It is a clear signal from African leaders that they are ready to tackle a group of diseases that have had significant social and economic consequences on some of the poorest and most vulnerable communities in the world. The trachoma community welcomes this relationship and looks forward to seeing it develop further, to become more inclusive and comprehensive with concrete commitments made by governments so that we can eliminate NTDs once and for all, with no one left behind.
This blog was written by the ICTC Executive Group - Serge Resnikoff, Virginia Sarah, Scott McPherson (pictured with Isabella Montgomery) -for the Neglected Tropical Disease NGO Network (NNN)