2023 Side-Events
Since the launch of the WHO 2030 NTD Roadmap, the global health sector has been going through turbulent times. The changing landscape of NTDs has highlighted the need to focus on cross-cutting issues and promote cross-sectoral programming to reach the road map targets.
To promote better collaboration amongst our members and guide a next generation of NTDs leaders, in 2023 the NNN is adding side-events to our existing conference structure. Each of these will address a specific area, from fostering regional networks and collaboration, to putting the focus back on people affected by NTDs, and highlighting the next generation of change makers.
Find more information below about the Regional Meeting for Africa, Storytelling Lab for NTDs, Youth Panel Discussion, and Morning Sessions.
Regional Meeting for Africa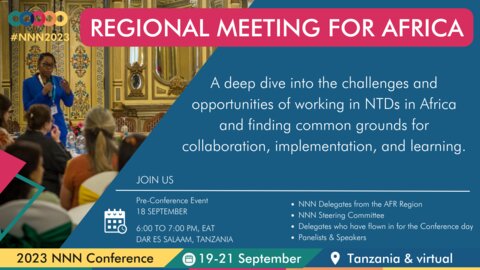 This year the NNN is hosting the first ever NNN Regional Meeting for Africa. The event will take place on Day 0 of the 2023 Conference, on 18 September and it is open to all. The Regional Meeting will focus on NTDs within Africa and will include presentations from delegates who have worked extensively in Africa and best understand challenges and local contexts of working in the Region.
The event is patroned by Anesvad Foundation and The Fred Hollows Foundation, will be presented in two parts. The first part will include presentations from delegates who have conducted extensive research on NTDs in the Africa Region, the second will present a panel discussion titled "Facilitating Engagement of Regional Members to Collaborate, Implement and Learn".
Why hold regional meetings?
Since its inception in 2009, the NNN has grown to more than 90 member organizations. With this increasing membership base comes the challenge of ensuring all members are collaboratively engaged with the NNN, are represented in the Working Groups and supported within and outside of the network. Regional networks are a tried-and-tested way of engaging organizations from the same geographical area, create a platform where those with shared challenges, opportunities, and conditions can come together and build their voice and capacity..
In May 2023, the NNN held its first ever Regional Network meeting, for South East Asia. Hosted virtually, the meeting saw attendance from more than 15 different organizations working on NTDs in the South East Asia Region.
Building on this success, the NNN invited the representatives from the Africa Region and beyond, to meet in Tanzania, East Africa during the 2023 Annual Conference in September.
Storytelling Lab for NTDs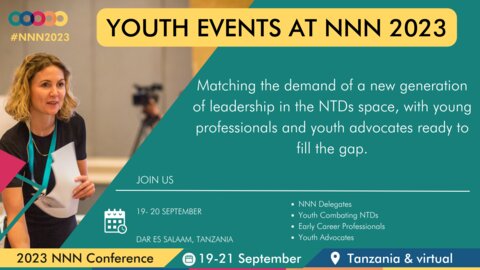 On Day 1 of the 2023 NNN Conference, a Storytelling Lab for NTDs will be held, where young artists, performers and advocates will share stories of their fight against NTDs, highlighting struggles, motivation and hopes for the future.
Through the event, we will explore new mediums of storytelling that can be adapted in communications. Instead of only relying on traditional communication practices and strategies, the Storytelling Lab will explore different forms of communication, such as dance, music and spoken word. It is our hope to inspire members and delegates to continue to engage in new and changing ways of sharing messages that highlight the need and urgency to take action against NTDs.
Youth Panel | Demand Generation: The role of youth in creating a movement to end NTDs
Collaborating with established youth networks within Africa, the NNN aims to get a better sense of, and champion existing youth-initiatives to end NTDs.
On Day 2 of the 2023 NNN Conference, Youth Combating NTDs and the NNN are holding a panel discussion on "Demand Generation: The role of youth in creating a movement to end NTDs". Youth Combating NTDs is a youth-focused and led initiative, designed to mainstream the participation of young people within the NTD community across all its activities. The discussion will gather young practitioners from the NTD space, showcase their significance as professionals, and get their perspectives on the role of young people in advocacy-building, demand-generation for NTD services, as well as creating meaningful change in the NTD space. Through the event, these young practitioners, experts and advocacy leaders in the NTD space will help to shift the focus of the broader NTD discussion from research to practice, by showcasing the lived experiences of young people in various contexts.
This event, patroned by Uniting to Combat NTDs, will see panelists from a variety of regions, backgrounds, and professional standing come together to reach new frontiers, bring new voices, ideas and perspectives to the fight to end NTDs.
Morning Sessions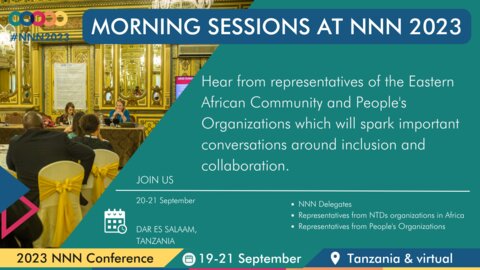 Morning Session 1 - GIZ TZ & EAC Secretariat
One Day 2 of the 2023 NNN Conference, a one-hour special session will be jointly conducted by the East African Community and GIZ Tanzania. The session will carry on the discussions from the Regional Meeting for Africa the day before, and go deeper into creating a space for collaboration and learning. Open to all, the session will be of note to NTDs organizations working in Africa and will also allow NTDs professionals to discuss new ideas and paradigms for change with the Eastern African Community and the Eastern African Community Secretariat.
Morning Session 2 - Organizations of Persons Affected by NTDs
One Day 3 of the 2023 NNN Conference, a one-hour special session will be conducted by Organizations of Persons Affected by NTDs. The session "Organisations of persons affected: Improving participation, empowerment, and reducing disease burden" will highlight the importance of organizations of persons affected by NTDs in improving participation, empowerment and reducing disease burden.
The session will showcase existing organizations and discuss collaboration strategies. With the aim of stimulating interest and support for the development of people's organizations across different NTDs communities, this session will focus on promoting inclusion, equality, and meaningful participation of persons affected by NTDs.