2021 Conference Agenda
The 12th annual conference of the NNN, themed "Enabling a Paradigm Shift to a country-led response to deliver the NTD Road Map" seeks to celebrate the launch of the WHO Road Map for NTDs, 2021 – 2030 and encourage NTD NGOs to commit to delivering the paradigm shifts laid out in the new road map. This free, three-day event featured 16 exciting workshops and two rapid fire sessions. The plenaries included a high-level panel discussion, a Special Session and exciting NTD Innovation Prizes.
From the promise of vaccines to tackle COVID-19 to funding cuts and vaccine-engendered inequities, the events of 2020 and 2021 have laid bare the challenges confronting global health actors and the NTD community. Conversely, the current context has also provided opportunities to demonstrate that NTD interventions can be conducted safely by following protocols even in the midst of a pandemic, thereby demonstrating the contribution of NTD programmes to the creation of resilient health systems.
Supporting countries in delivering the new road map requires that NTD NGOs re-examine and revise current approaches to programme planning, coordination, and implementation to enable the paradigmatic shifts from process to impact, siloed interventions to cross-sectoral collaboration, and most importantly, from partner-driven to country-driven decision making. In 2021, the NTD NGO community must answer the question: how must we adapt to support country-led decision making and achieve the paradigm shifts set out in the new NTD Road Map?
Day 1 - Tuesday 7 September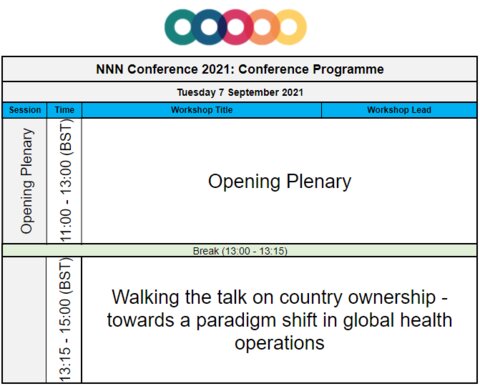 Day 2 - Wednesday 8 Spetember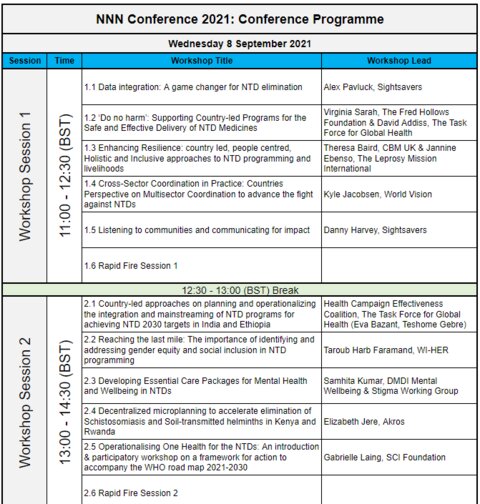 Day 3 - Thursday 9 Sept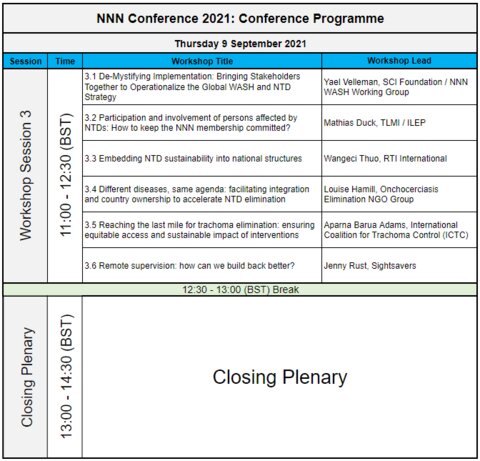 Rapid Fire Sessions Days 2-3